Tony from Florida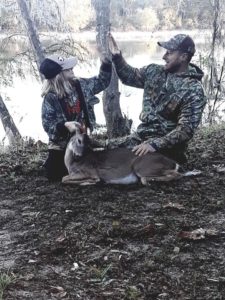 Hey guys, this is Tony from Florida.  I purchased my skunk ape tree stand just before the 2018 deer season began. I purchased the tree stand in the hopes of my nine year old daughter harvesting her first deer.  As you can see in the picture we didn't wait long. The versatility of the skunk ape tree stand allows for a 360 degree angle and no room for an excuse not to get the job done.  The child lock on an attachment allowed for the child to easily have the same angle with the use of the rails for a slow and steady shot.  This was the third time that we used the tree stand and completed our task with absolutely no hiccups.  I would highly recommend the Skunk Ape Tree Stand to anyone with a youth hunter or the single hunter. I bow hunt out of this tree stand during archery and with the quick and easy rail removal it allows for a comfortable 360-degree seated shot. I give this product five stars.
October 23, 2018
Arthur M.
My buddy Tim told me about your stands and I bought two of them. He picked them up at your warehouse not knowing he was getting one for Christmas. He was surprised.  We love the flexibility of the stand to hunt 360 degrees. He takes his daughter with him to hunt with the extra seat too. Thanks guys, it's awesome!
November 6, 2018
Trey Shoemaker: Appling County, Georgia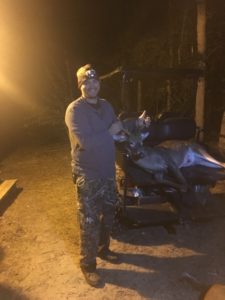 I used my Skunk Ape Tree Stand for the first time this past weekend and it was, by far, the best tree stand that I have ever used. It was like hunting in my La-Z-Boy at 25 feet.  I really like how it is designed. It is quite a sound structure. I especially like padded shooting rails which are the perfect height and that helps me steady my rifle and get a perfect shot off.  I can't wait to climb in to my Skunk Ape Tree Stand again.
December 18, 2018
IMB Outfitters and Skunk Ape Tree Stands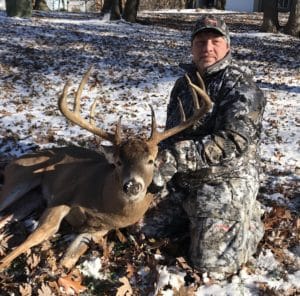 We purchased several dozen of the Skunk Ape Tree Stands this past Fall. Our clients loved them, both archery and gun alike. I took this 164 inch Missouri Monster out of one of our Skunk Ape Tree Stands. They are very comfortable, have lots of room, are safe, secure, etc. etc. We love our Skunk Ape Tree stands here at IMB Outfitters with deer hunts in the Midwest.
(Darrin Bradley is an accomplished outdoor writer, is on thirty six pro staffs in the hunting industry and is a nineteen year owner of IMB Outfitters located in Illinois, Iowa, and Missouri, with over 54 record book big game animals to his credit. We are the official ladder stand of IMB Outfitters and are proud partners with them. –John R. Hackett, Owner, Skunk Ape Tree Stands)
Darrin Bradley
February 14, 2019
---
SUBMIT YOUR TESTIMONIAL TO THE GUYS AT SKUNK APE!