Skunk Ape Tree Stands has created the most comfortable hunting ladder stand available to the public. The vision and innovation this ladder stand offers comes to you from a lifelong hunter, Rhett Butler. He simply wanted something better, so he designed it, then he and his business partner, John Hackett, patented it and brought it to market.  Rhett and John are so proud of the outcome that they want others to be able to have the Skunk Ape Tree Stand experience of hunting, just like it is their first time all over again…
Our patented design allows several functions not previously afforded to a hunter in a ladder stand.  The adjustable 360 degree shooting rail makes sure that you can utilize every opportunity that presents itself, no matter what direction.  The rail height is adjustable for the ability to comfortably aim your firearm.   In the middle of the 360 degree shooting rail is a comfortably padded seat that is mounted to a swivel. This allows you to adjust your shooting angle safely from a seated position around the entire 360 degree shooting rail.  All of this allows for a longer, more comfortable hunt with mobility to safely adjust your shooting angle and ensure the most accuracy possible for your shot.  Also, the shooting rails can be lowered or removed and strapped to the tree to accommodate the bow hunter!  The Skunk Ape Tree Stand is truly a universal tree stand!
We, the Skunk Apes challenge you to be the ultimate predator and get yourself into the best and last ladder stand you will ever own!
DARE TO ENGAGE!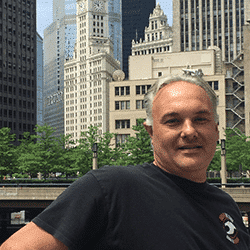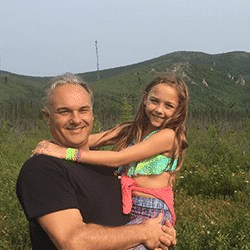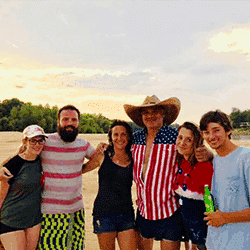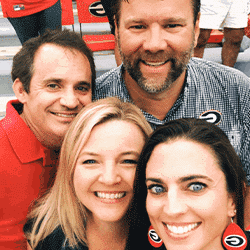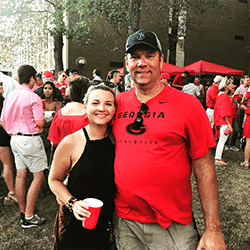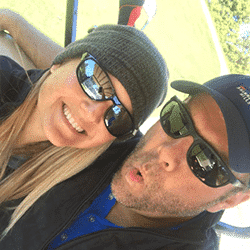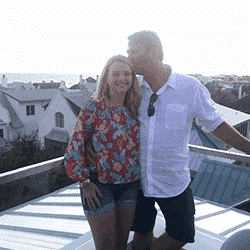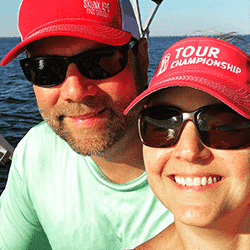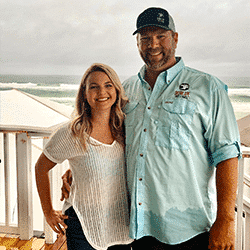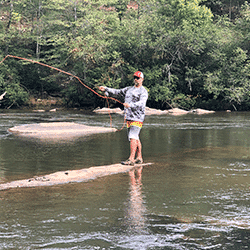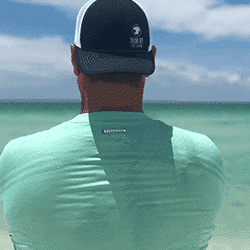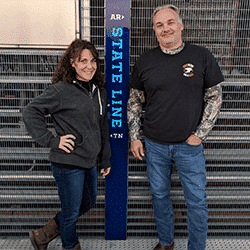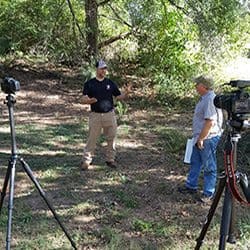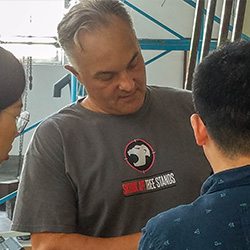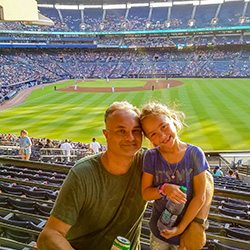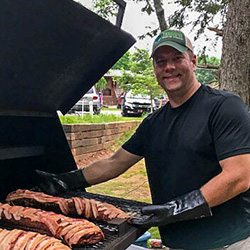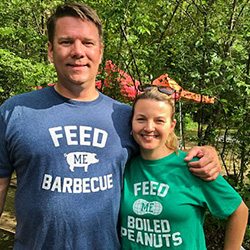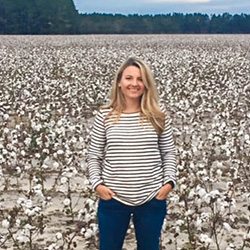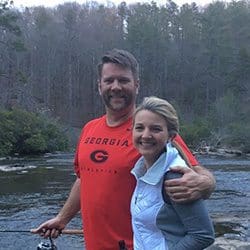 Meet Rhett E. Butler, Jr.
Rhett was born and raised in Georgia and, besides living in Florida for a year, has lived in the state all of his life.
Rhett has worked in the automotive industry, owning an auto body repair shop, and in the construction industry, building commercial and residential buildings.  Currently, he owns and manages twenty plus rental houses and several commercial buildings in the Brunswick, Georgia area.
When not hunting, Rhett enjoys kayaking on the river with his daughter. He stays in shape by cutting and splitting his own firewood and enjoys grilling or smoking something he harvested in the backyard while sitting on the porch swing hanging with friends and family.  He and his girlfriend, Debbie, enjoy traveling, including a recent trip to Alaska for a bear hunt and week stay at an old primitive goldmine!
The Skunk Ape Tree Stand has been in some form of design in Rhett's head since his teenage years.  The awarding of his patent for the stand is an achievement for which Rhett is extremely proud. He is excited for the continued growth of sales and working for a goal of having stands sold and being used in as many states as possible in the USA. Interacting with customers and hunters is always something that Rhett takes the time to do. He knows that helping to share his vision will make hunting better for the people who become his customers.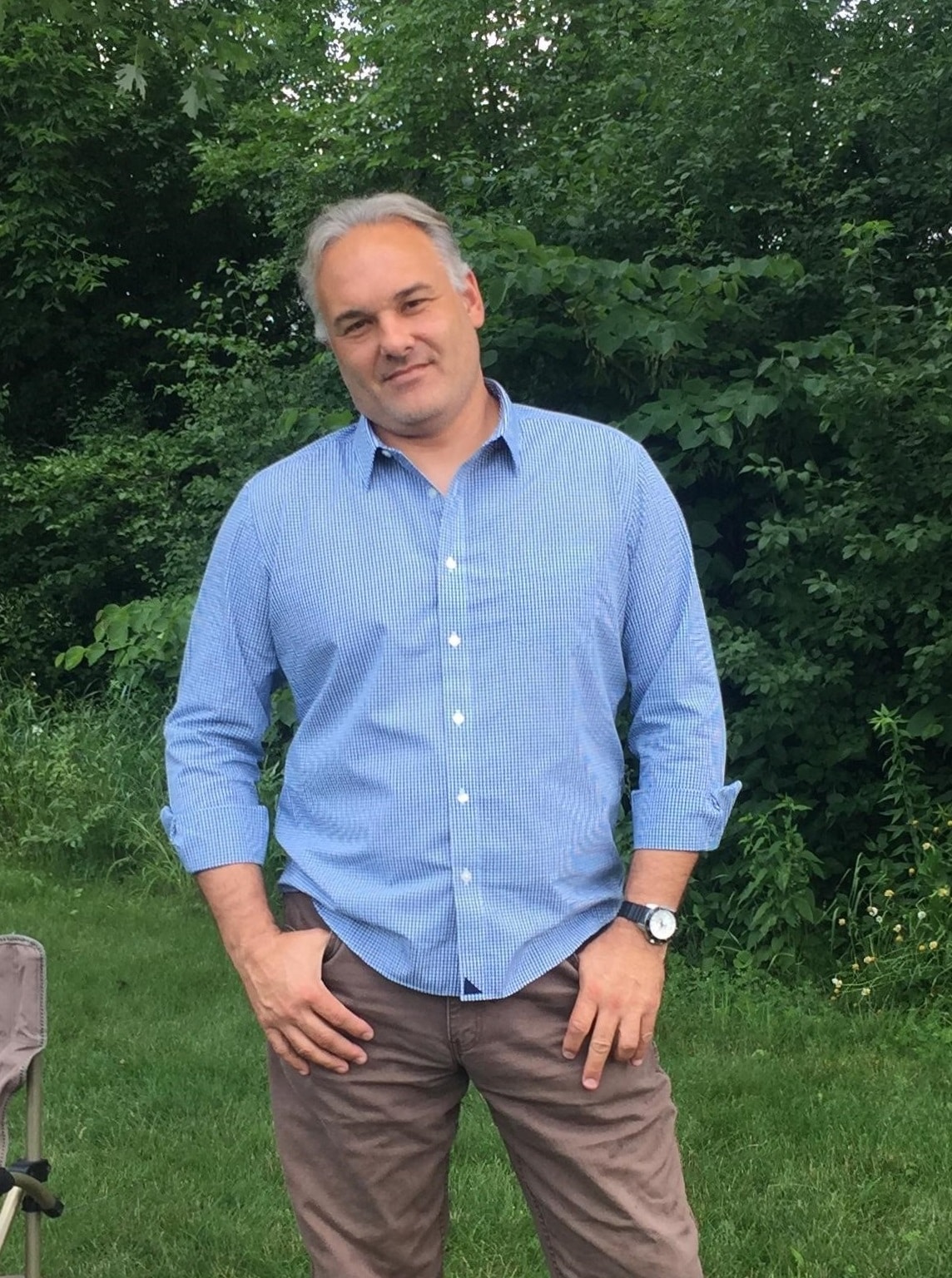 Meet John R. Hackett
John was born and raised in Georgia and, besides living in South Carolina for eight years, has lived in the state all of his life.  
John has enjoyed a career in the electrical construction industry for twenty-one years.  Working on large installation projects has always been a fun and rewarding challenge for him.  Some notable projects have been at the Georgia Aquarium, the University of Georgia and the Reptile Complex at the Atlanta Zoo.
An avid outdoorsman, John enjoys hunting, camping, hiking, cycling and running the grill or smoker.  He is a fan of college football and major league baseball. One to always have the radio on, John and his wife, Jill, also enjoy going to concerts and taking in live music whenever possible.  He also likes to build items for around the house and work on general home improvement projects that often seem to arise with a 57-year-old house!
John loves being a part of Skunk Ape Tree Stands and is proud of the progress made to date; however, he is always working to move forward and grow. As he optimistically looks to the future and bringing the company's products to market, he hopes the growth of the Skunk Ape brand will connect with hunters across our great nation.